Vehicle diagnostics service
Sin Tech is highly regarded as one of the leading diagnostic specialists amongst the motor trade in Dorset. Now spreading our wings a little and covering parts of Devon and the South West, we hope to recreate the same reputation we have built up over the years with local Dorset garages.
We have a large database of independent garages that we regularly serve, along with an ever increasing retail database.
Because we specialise in mobile diagnostics and ECU remapping, we can offer so much more in these areas than many others can.
We don't have to worry about ordering parts, customers constantly coming in to reception, staff issues and other interruptions.
We don't do brakes, servicing, clutches or major repairs.
We DO diagnostics, auto electrical, and ECU remapping, and when we work for you, we will give you and your car our undivided attention.
We offer Trade discounts to independent garages and some other businesses. Please call or email for details.
Engine Management
We have many different types of diagnostic equipment, some generic which cover a number of vehicle makes and some dealer level tools which are specific to a particular make but often a to a higher spec.
Engine management systems are so complex today and require a great deal of expertise as well as high quality diagnostic tools to diagnose and repair the simplest of faults. At Sin Tech, we not only have the tools for the job but the experience and know how too.
ABS
ABS brake systems have come a long way since their introduction to production vehicles in the late 1970's, and became a standard fitment to the Ford Granada in 1985. Back in the day some reluctor wheels were driven by small rubber belts attached to the driveshafts.
Now many of them are integral to the wheel bearing assembly, which although often more expensive to replace, are also far more accurate, reliable and safer on the road.
Another benefit is that it is not unusual to incorporate other safety control systems such as ESP, TCS and BAS.
Sin Tech has the ability to accurately diagnose faults with most ABS and related systems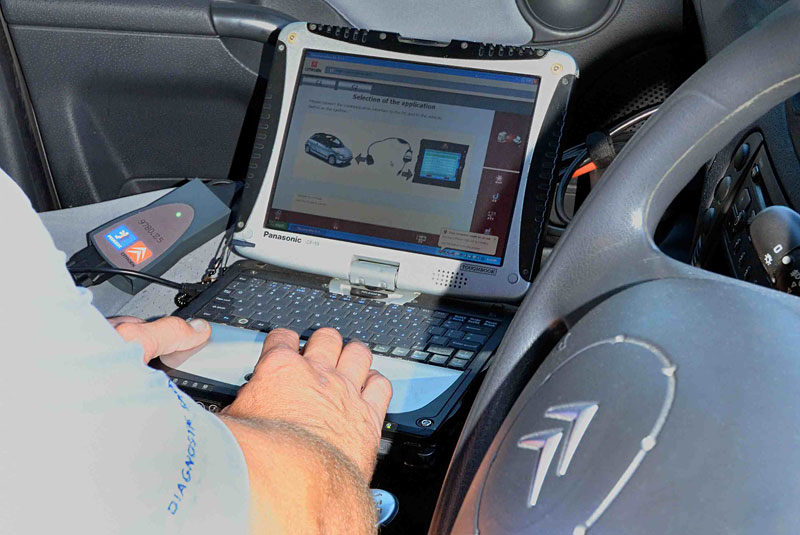 SRS
SRS also known as Supplementary Restraint Systems. Recognized by most people as Airbag system.
These systems can be rather complex in later models and must also be treated with great caution as they contain pyrotechnics (explosives), which are triggered by a small electrical current. In extreme cases they can be triggered by static electricity, the type that is created when a balloon is rubbed in a child's hair or when a woolen jumper is pulled over a nylon shirt.
More and more components are being added to SRS. Sin Tech can diagnose faults with most systems including reprogramming of control units when crash data is stored.
BCM
Most vehicle functions are controlled by a processor now, whether it be engine, gearbox, brakes, or SRS. Even the lights and electric windows are controlled by a computer of some sort. Some of the Body Control Module functions included are electric windows, central locking, lights, indicators, immobilizer and sunroof.
Sin Tech are able to diagnose faults with Body Control Systems and in some cases are able to reprogram secondhand units when the correct PIN is available.

Contact us for full payment options